Amazing photos of Moscow from above
10.12.2012 19:11 Просмотров: 941 Печать | E-mail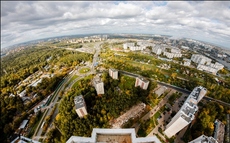 In this article I would like to show you some of my photos, that I've never published before, taken on the roofs of different buildings in Moscow.
1. December 2012. It was one of the heaviest ice rains in Moscow I remember. In such aweful weather we were crazy enough to climb to the top of a 215-metre-high tower. It was extremely windy and cold there!
2. May 2011. Victory Day:
3. Views from the Housing Estate "Continental":
4. From the roof of the building called "Dom na Naberejnoy":
5. Next pictures were taken on the roof of the Russian Academy of Science. The building has an original architecture. There is a golden construction on the roof, which many people call "brains". I heard lots of stories about secret scientific installations inside these "brains", but actually the aim of its use is simple. It consists of different technical rooms: communication, ventilating equipment, elevator mechanisms, and kitchens of the restaurants Sky Lounge.
6. The photos from my favourite tower of Kievskiy railway station. The atmosphere inside it is incredible!
7. And photos from other roofs:
Author of the article and photos: vanh1to