The roof of the Russian Academy of Sciences
25.12.2012 01:06 Просмотров: 917 Печать | E-mail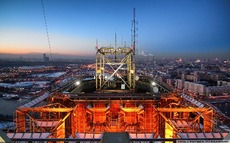 The original construction on the roof of the Russian Academy of Sciences, which is also called "golden brains", generated a lot of myths among the people. Beginning from the unsophisticated ones that this construction is covered with the solar panels to supply electricity to the building and finishing with the rumor that the decorative elements on the roof is a camouflaged device for Muscovites mesmerizing .
Actually it has no special function at all. The construction consists of painted metal beams and glass. As for the view from the roof, it's really breathtaking!
Address: 32a, Leninkskiy Prospect, the nearest metro station is "Leninskiy Prospect".
Автор статьи и фотографий: saoirse_2010