Showroom Xoxloveka Original
30.03.2012 23:37 Просмотров: 1094 Печать | E-mail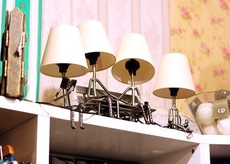 The house number 7 in Khokhlovsky Lane is famous to many residents of Moscow. The building has a long history. It was a working place of the notable government official E. Ukraintsev in the 12th century; the national archives and records administration of the Collegium of Foreign Affairs; the conservatoire; Jurgenson Publishing House (Tchaikovsky's principal publisher on a world scale) and the printing house "Music". The house has a spirit of old Moscow, floating around the lanes of Kitay-gorod area. Passing by this house, you will imperceptibly go to the past in your imagination and clearly visualize life of the people, who lived here long time ago, behind the brick walls and narrow windows.
Now the place is rich with many different organizations, such as creative centers, dancing schools and showrooms. In this article, I would like to tell you about one of them - the shop of original items "Xoxloveka Original".
This showroom was opened in October 2010 and quickly became a rather famous place among authors of handmade works and customers. Here you will find absolutely different interesting things, such as clothes by Russian designers, plastic decorations in the form of a swallow and a deer, vintage style sunglasses, pillows with cats, jackets embroidered with paillettes and photo cameras Diana. Also, you will find some magic items like kaleidoscopes and teleidoscopes. I think everybody knows what kaleidoscope is, but not many people have ever heard about a teleidoscope. It is a kind of kaleidoscope, but symmetrical patterns form from all objects outside the instrument, not from items installed as part of it.
The showroom "Xoxloveka Original" regularly organizes a very interesting event called Dress Crossing. People bring from home some of their personal things, which they don't use, but in a good condition. It can be clothes, accessories or books. And they can change the things to something similar, brought by other participants of the event.
Working hours:
on weekdays - from 12:00 until 22:00
on weekends and holidays - from 13:00 until 23:00
Address: 7, Khokhlovsky Lane.
The nearest metro station: "Kitay-gorod" (you need to use the exit from the station to Staraya Square, Solyanskiy Passage and Zabelina Street.