Shop Cheshire Cat
30.05.2012 12:43 Просмотров: 1142 Печать | E-mail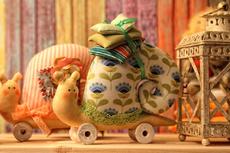 The shop of handmade presents "Cheshire Cat" has recently opened in Moscow. In the shop you can find a large choice of unique handmade things from different places of the world. Many of the items are intended for interior design, to create a nice atmosphere at home or in the office. Also, you will see lots of wonderful things, such as souvenirs, cards, decorations, accessories, and lots of eco toys for children.
The shop offers a unique collection of ethnic clothes from different countries. It is an amazing place, full of a fairy-tale entourage, which you will especially enjoy drinking a cup of delicious tea.
The shop "Cheshire Cat" hosts interesting masterclasses by professional artists and designers. You will have an opportunity to learn how to make decoupage, work with clay, create dolls and many other wonderful things!
Address: 8/12, Sushevskaya Street.
The nearest metro station: "Mendeleevskaya".
Working hours: every day from 11:00 until 19:00.