Tsatske Petske Shop
18.09.2012 22:14 Просмотров: 1004 Печать | E-mail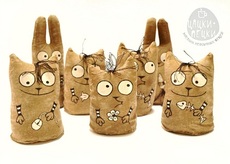 You can find a very interesting small shop in Moscow, which offers unusual goods. It is called "Tsatske Petske". As soon as you come there, you will understand that it is not just a gift shop full of handmade items for interior decoration and accessories. "Tsatske Petske" is the whole world of unusual things, which was created by many talented people. At the shop you will see numerous handmade works by talented masters and skilled craftsmen. Every item keeps all the energy and soul, which its author put into it, and has its own unique history.
At the shop you will find the following goods: polymer clay, leather, beaded, glass, wooden, clay, woolen and metal artworks, as well as absolutely various handmade items in different technique: fusing, quilling, felting, srapbooking, decoupage, woodcarving, stained-glass painting, fabric painting and many others. Even if you don't plan to buy something at the shop, you can just come there to get positive emotions and, may be, look for some gifts for your friends for future.
Sometimes the owners of the shop organize different masterclasses in felting and fusing in the special studio. If it is interesting for you, you can contact the shop using the number or email below.
All the time the shop is in searches for new talented authors. So if you create some interesting handmade works and would like to share you talent with others, please, contact the shop!
Address: 4, Universitetskiy Prospect.
Phone number: 89263296543.
Working hours: from 10:30 until 20:30 without days off.