Restaurant Beverly Hills Diner
07.02.2014 18:06 Просмотров: 96 Печать | E-mail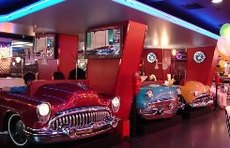 This round the clock restaurant- diner with bright design in American style of the 60-s. The menu of the restaurant is rather diverse: variously roasted burgers are served with fries. The breakfasts are very tasty especially comparing them with the ones at fast-food canteens. The portions are big, the prices are adorable! There is a special vegetarian menu for those who don't eat meat. If you come here with your children you'll be gratefully surprised to find a well organized play ground. Bear in mind that you can't smoke at the restaurant until 17:00.
Besides here you will find a real "Avenue of Stars", a musical jukebox and tables resembling retro cars in the style of "Pulp Fiction". The whole interior is designed by the famous American designer Larry Quick. All the furniture, interior decorations and furnishing elements were imported from the United States.
Average bill: 500-1000 rubles.
Address: Metro Station Clean Ponds, Sretenka Street 1
Metro Station Lubyanka, Nickolskaya Street 10
Khimki District, Moskovskaya Street 14A
Metro Station Pushkinskaya, Tverskaya Street 12
Kotelniky, Novoryazanskoye highway 5B.
Metro Station Barrikadnaya Street, Gruzinskaya Street 4-6
Website : www.thediner.ru
Author of the report: Irina Tkachuk.