Maslenitsa greetings displayed on Novy Arbat billboards
16.02.2018 19:00 Просмотров: 0 Печать | E-mail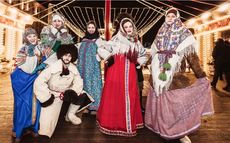 There is a labyrinth with more than 450 trees on Manezhnaya Square for the event.
Posters have been put up in Moscow streets to mark Maslenitsa (Pre-Lent Week), and the digital billboards and media facades are displaying videos the most colourful of which are on the front of 11 and 19 Novy Arbat. In total, there will be 540 LED projectors and about 60,000 LEDs.
The New Year decorations on Manezhnaya Square have been replaced by colourful ribbons and traditional hay toys. The adornments on light archways on Tverskaya, Manezhnaya, Pushkinskaya and Revolyutsii squares as well as in the Novopushkinsky Public Garden and Kamergersky and Gazetny pereulok have also changed.
Scenes from Maslenitsa celebrations were added to the Sleigh art installation on Triumfalnaya Square; and Manezhnaya Square transformed into a magic labyrinth made out of over 450 trees. There are 1,200 colourful lamps, 28,000 handmade toys plus 15,000 barankas (Russian bagels).
The Moscow Maslenitsa festival will continue until 18 February. There are 25 festival venues around the city with different kinds of performances and concerts as well as artisanal and cooking workshops. There will be amazing shows and people will be able to sample pies, honey, jam and other food there.
Source: mos.ru