Over 100 restaurant chalets to open at the Journey to Christmas festival
22.12.2017 19:00 Просмотров: 0 Печать | E-mail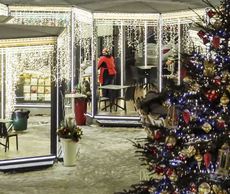 On 22 December–14 January, Muscovites will be able to taste dishes from various national cuisines.
Japanese gyoza dumplings will be cooked on Revolyutsii Square and Tatar gubadiya layer-cake in Kamergersky Pereulok.
Over 100 restaurant chalets will open at venues of the Journey to Christmas festival, which will take place in Moscow from 22 December through 14 January. Festival-goers will be able to taste dishes from various national cuisines.
"The most restaurant chalets (20) will open on Revolyutsii Square, followed by seven chalets on Manezhnaya Square and seven on Novy Arbat Street. There will be from one to three chalets at other venues," said a spokesperson for the Journey to Christmas festival organisers.
On Revolyutsii Square, festival-goers will be able to try cedar pancakes with honey and pancakes made with hackberry flour, and drink a hot fireweed infusion with raspberry and blackberry. They will also be offered drany potato pancakes with vegetables or meat as well as pumpkin soup with pine nuts. Asian cuisine fans will be able to savour Korean pyanse stuffed buns and Japanese gyoza fried dumplings.
Those who go to Manezhnaya Square can sample gingerbread houses and Christmas layered cakes with dried fruit baked to look like wreaths. Lithuanian sakotis cakes will be cooked over an open fire on Tverskaya Square, while cooks from Lithuania will describe the history of this dish. Everybody will also be able to sample a traditional Czech dish, trdelnik. It is a spit cake made from rolled dough and topped with sugar and cinnamon.
Those interested in trying Tatar cuisine can visit the chalet in Kamergersky Pereulok, which will serve the national dish kystyby – mashed potatoes with mushrooms or meat rolled into unleavened flatbread. Festival-goers will also be able to sample gubadiya, a layer-cake, and drink hot tea with pine syrup and cones.
Armenian dishes will be cooked on Kuznetsky Most Street. Visitors will be able to taste pilaf with mushrooms, traditional dolma stuffed grape leaves, or zhingyalov hats ‒ flatbread stuffed with 15 kinds of herbs. Various grilled rolls – with crab, grilled vegetables and chicken – can also be found at festival houses on Gogolevsky Boulevard. There will also be Christmas cakes with candied fruit and chocolate.
The Journey to Christmas festival venues will also host little shops selling holiday souvenirs and gifts. In total, there will be over 320 such pavilions of several types: French pavilions, wooden houses familiar to Muscovites, wooden chalets with a new design (on the Garden Ring) and glass chalets and houses.
The Journey to Christmas festival will be held for the fifth time. This year, the theme will be theatre. Shows, performances, concerts and workshops will take place on Moscow streets, boulevards and squares every day. The main festive venues will be Tverskaya Street, Red Square, Manezhnaya and Tverskaya squares, Revolyutsii Square, Rozhdestvenka Street, Novy Arbat and Old Arbat streets, Kamergersky Pereulok, Tverskoy and Gogolevsky boulevards, Klimentovsky Pereulok and the Novopushkinsky public garden. For the first time ever, the renovated Garden Ring will present its own festive programme.
This year, Moscow has become one of the five most interesting travel destinations for the upcoming winter holidays according to The Wall Street Journal. The newspaper included Moscow in the list thanks to the Journey to Christmas festival.
Source: mos.ru