Exhibition: Hunting and Fishing in Russia at VDNH
15.09.2017 18:30 Просмотров: 0 Печать | E-mail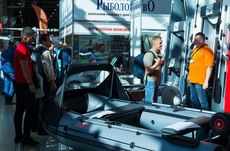 From 14 to 17 September 2017, Pavilion No. 75 will host the autumn season of the Hunting and Fishing in Russia International Exhibition.
Over 600 participants from all over the world will bring the best hunting and fishing equipment, vehicles, special gear, apparel and accessories to VDNH. One of the world's largest thematic events will take place on an area of 15,000 square metres.
Participants in the Hunting and Fishing in Russia Exhibition will present a large selection of products for professional and amateur fishing: fishing tackle, equipment, motor boats, rowing boats, outboard motors, overalls and boots. Here, enthusiasts of hunting and tourism can find optical equipment, night-vision devices, hunting equipment, weapons care, sports and field equipment, tents, mountaineering accessories, diving equipment and much more. Visitors will also have the opportunity to buy related literature, gifts and souvenirs here.
The exhibition programme is traditionally designed both for professionals and for all devotees of outdoor recreation. There will be photo contests, workshops on sharpening knives and making flies and fishing tackle, talks by famous Russian travellers, and tastings of dishes cooked outdoors. For the first time, the exhibition will host the "Vertical" film festival, dedicated to extreme sports, adventure sports and wildlife.
On the weekend of 16–17 September, the Union of Children's Active Tourism Organisers will lead educational workshops. Young tourists will learn how to properly pitch a tent, tie all kinds of knots, from simple to complicated, give first aid, build bonfires and set snares.
VENUE: Pavilion No. 75.
TIME: 14–16 September from 10 a.m. to 6 p.m., 17 September from 10 a.m. to 5 p.m.
COST: 200 rubles. Tickets to the exhibition can be purchased on the event's website:hunting-expo.ru.
Source: VDNH