Permanent Exhibition "Mysteries of the Deep Sea World"
06.06.2012 23:00 Просмотров: 980 Печать | E-mail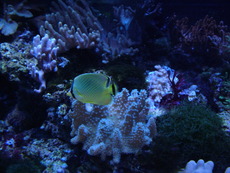 In the pavilion 11 of the All-Russian Exhibition Center, there is a permanent exhibition called "Mysteries of the Deep Sea World". Except sharks, here you can see many other interesting sea inhabitants. For example, piranhas, a sea urchin, shockfishes, Parachromis managuensis from Central America, a typical tortoise, Mastacembelus erythrotaenia and red lionfishes - very beautiful ones, but extremely venomous. It is one of the most dangerous family of fish in the world. They are covered with several thorns with quick-acting poison. If you step on them or take them in your hands, you can buy a coffin at once.
It is very dark at the exhibit, because deep sea inhabitants cannot stand bright light. And it is not allowed to take photos with a flash as the fishes can die of it. That is why the quality of the photos is not good enough.
At the entrance of the exhibit you will find an aquarium with shockfishes. One of them was sleeping all the time in the sand, and the other one was crowling on the bottom.
The sharks were swimming around the aquarium so quickly that it was almost impossible to catch them for a photo.
It was very interesting to observe the see inhabitants. We didn't want to leave the exhibit and strongly recommend you to visit it too.
Address: pavilion 11, All-Russian Exhibition Center. The nearest metro station: VDNKh.
Working hours: daily from 10.00 until 18.00.
Entrance fee: 250 rubles.
Author of the article and photos: johanajollygirl