Colourful Moscow Festival: Six-metre-tall graffiti and a street art show
08.06.2017 22:00 Просмотров: 0 Печать | E-mail
Muscovites will be able to make their own graffiti, aided by professionals.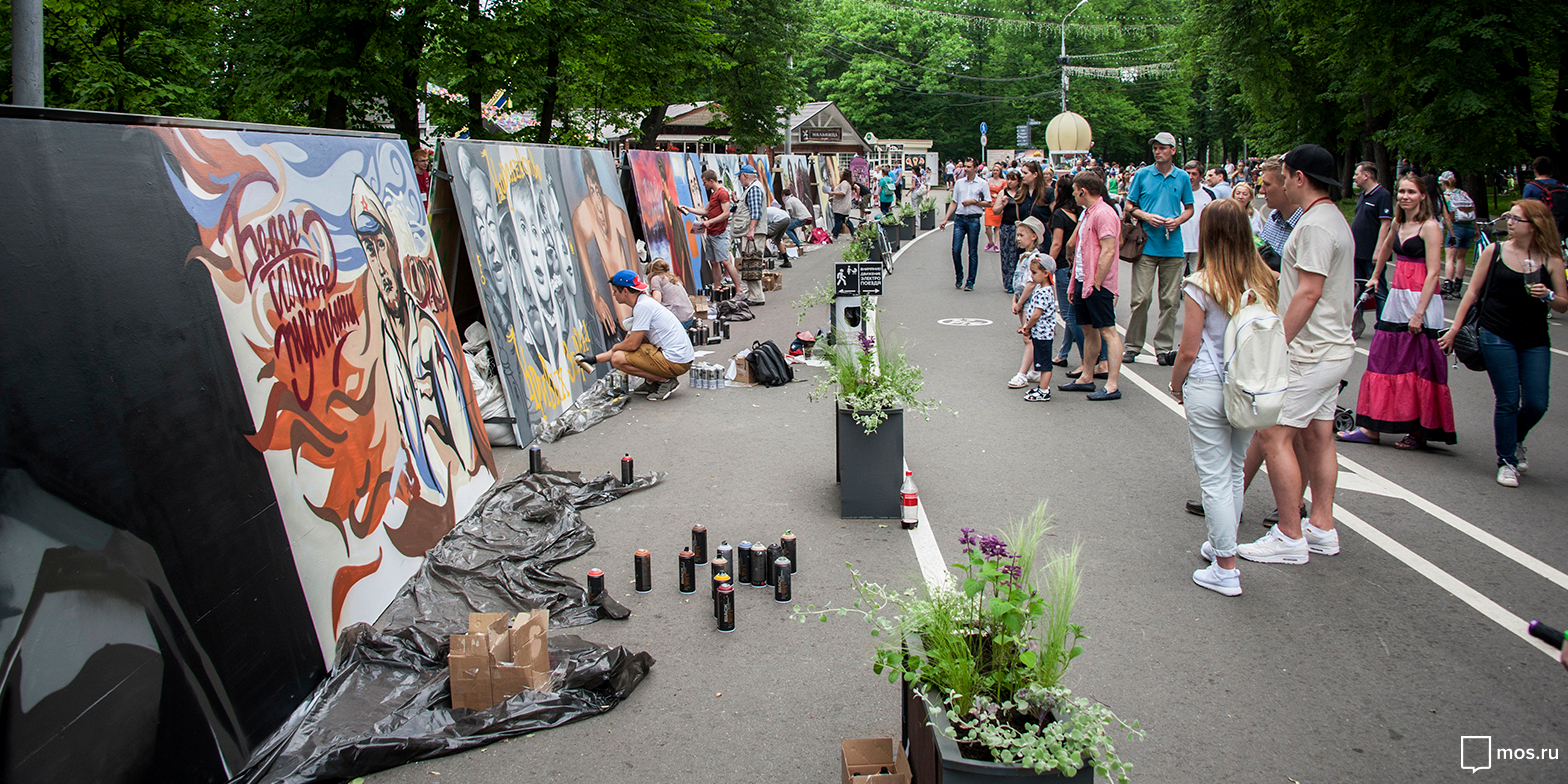 On 30 June, a free workshop will be organised in Sokolniki Park to create a group graffiti artwork measuring six square metres. The event will be part of the 9th Colourful Moscow Youth International Festival. Nine sports and art sites will be open for festival-goers. Apart from the workshop and a graffiti competition, visitors will be able to take part in competitions in break dance, workout, sketch battle, street art, skateboarding and streetball, and enjoy popular DJs' performances. Children will have fun at the play area.
"The festival has two goals – to introduce residents to youth subcultures and street art, and to give them a chance to express themselves and demonstrate their creative skills," said the press service of Moscow's Multicultural Policy and Interregional Relations Department. "The project is designed to channel the youngsters' energy into creatively rethinking Russia's cultural diversity and wealth."
This year, the Colourful Moscow Festival is devoted to the Year of the Environment. It will open at 3 pm at four sites in Sokolniki Park: the large roundabout between the main and Pesochnaya alleys, the Rotunda stage, the skate park and the Astronomers' Garden.
24 graffiti paintings, a workshop and a street art show
The festival will centre around the large roundabout between the main and Pesochnaya alleys. The highlight of the event will be a graffiti painting competition where participants will have to depict the natural beauty of Russia's ethnic republics, for example, forests in the Komi Republic or the Altai Mountains.
Festival-goers will see how 24 graffiti paintings, each covering six square metres, are created. Participants have to apply by sending their graffiti sketches (at least four) drawn by hand, using a certain art medium, for example, pencil, ink, paint or marker. Details of the application process are available at the website of the Moscow House of Ethnicities.
The central venue of the festival in Sokolniki will host a free workshop on graffiti painting from 5 till 7 pm. All the participants will be working on a 3x2 metre graffiti painting simultaneously. Both adults and children over 14 are invited to take part. All those involved will be supplied with masks, gloves and spray paint bottles.
Festival-goers will have the opportunity to enjoy a street art show performed at an outstanding speed, using an unusual painting technique. The painters will use spray paints and rolled or twisted paper (for example, pages of old magazines) and stencils as well as the bottoms of the spray bottles. They will quickly paint on cardboard, wood or thick paper. Each picture takes about 10 minutes and 20 spray bottles.
Sports competitions for everyone
The festival programme also includes sports events that will be organised at different venues in Sokolniki Park.
Workout competitions will be held at the big roundabout between the main and Pesochnaya alleys where a large mobile sports complex will be set up. Anyone will be able to demonstrate their skills on the horizontal bar, parallel bars, monkey bars and wall bars if they wish. At 5.30 pm, the athletes will perform an exercise programme.
Break dance competitions will take place on the Rotunda stage near the main entrance to the park, which will involve teams of three dancers.
The skate park will host skateboarding and street basketball, or streetball, competitions. A show of Moscow's best skateboard riders will take place here at 4.30 pm followed by Moscow basketball clubs' professional performance at 5 pm.
During the time between the competitions, a beatbox show with elements of freestyle basketball will entertain the audience and the participants from 5 till 7 pm. While a musician imitates instruments' sounds, the rest of the group will perform stunts with a basketball.
To sign up for the competitions, please call: 8 (495) 625-90-14 or 8 (495) 625-54-07 by 28 June.
Drawing on water and face painting for kids
A children's play area will open in the Astronomers' Garden. Several free workshops in body painting techniques (Mehndi), face painting, drawing on water (Ebru) and artistic wall decoration for a toy cardboard house will take place here.
A ceremony to award competition winners is due at 8 pm on the Rotunda stage. Concluding the Colourful Moscow Festival will be a concert of youth national bands that will perform in various music styles such as rap, beatbox, folk and fusion.
The 9th Colourful Moscow Youth International Festival is sponsored by Moscow's Multicultural Policy and Interregional Relations Department and the Moscow House of Ethnicities. This year, the festival is expected to attract 5,000 people.
Source: mos.ru