Church of the Holy Sign in Dubrovitzy
17.11.2014 23:19 Просмотров: 1857 Печать | E-mail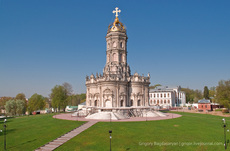 The Estate of Princes Golitsyns – Dubrovitzy is located in 20 kilometers from Moscow, in the outskirts of town Podolsk. Nowadays the estate includes a prince's palace, stables with gates in gothic style, a park with lime-trees, three outbuildings and the main attraction - a white stone church built in the end of the XVII century which will flabbergast you with its architectural decoration, totally uncharacteristic for Russian Orthodox churches.
The church is famous for its unique architecture, unusual for the Russian architecture. Supposedly the temple was built from 1690 to 1704. Allegedly Prince Golitsyn hired famous Italian architects for this purpose. The main entrance of the church is decorated with two white stone sculptures.

On the left side of of the entrance there is St. Gregory the Theologian with a book. On the right side – St. John Chrysostom with a book and a miter standing by his side. Unfortunately the sculptures are in bad condition now. The bells hanging rather low attract children to try their voices.


How to get to the estate: 
Bus №417 from Metro Station Yughnaya to the terminal stop "Dubrovitzy".
Autor of the article: griqor