Two cycloramas of Moscow in 1955 and 2012
02.02.2012 18:49 Просмотров: 861 Печать | E-mail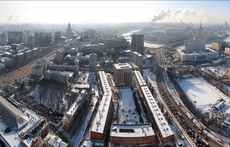 I've recently found a wonderful cyclorama of soviet Moscow on the website oldmos.ru. The cyclorama was taken from the roof of the House in Kudrunskaya Square, one of the "Seven Sisters" - a group of Moscow skyscrapers designed in the Stalinist style. Yesterday I decided to make a modern version of this view from the roof of the same house. You can see the two cycloramas in this article.
Both of the following photos are clickable.
The cyclorama made in 1955:
...and in 2012:
Address of the house: 1, Kudrinskaya Square.
Author of the article and photos: nazarov_msk