Shopping center in the Sevastopol Hotel
22.08.2011 13:35 Просмотров: 2125 Печать | E-mail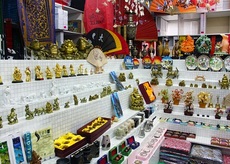 It's rather an unusual place where you can buy many useful things for everyday life, wholesale and retail, for a minimum price. The shopping center occupies sixteen floors in one of the four cases of the Sevastopol Hotel! Every floor is full of many small pavilions which offer different kind of goods: colorful stone jewelry and some devices for its creation, hookahs and tobacco, school materials, umbrellas, watches, cosmetics and perfumery, masquerades, gift bags, boxes and paper, different wooden items (massaging devices, combs, pipes, spoons), accessories for a tea ceremony and many many other interesting things.
Prices are very low. For example, you can buy an umbrella for not less than 900-1000 rubles in an usual store, but here it costs 500-600 rubles. Popular trousers "Alladinki" usually cost 800 rubles on the Internet, and here you will find the same ones for just 300 rubles. Besides, you can haggle with sellers. Here you will find the lowest prices in Moscow for different devices for jewelry making!
Also, it's interesting that most of the sellers are Hindus, because the goods are produced, evidently, in India and China. If you come here at lunchtime, you'll enjoy many pungent and unusual smells of Eastern dishes while sellers will be cooking their lunch :)
I'd advise those, who will decide to visit this shopping center in the Sevastopol Hotel, to take an elevator to get up to one of the top floors. So you will not have to go up the narrow stairs where someone carries heavy boxes all the time. Have a nice shopping!
Address: Bolshaya Yushunskaya, 1-а, case 4.

Nearest subway stations: Kahovskaja, Sevastopolskaya.
The shopping center is open every day from 9 a.m. to 19 p.m.
Author of the article and photos:
prevedva