Ennio Morricone in Moscow
13.01.2015 21:52 Просмотров: 142 Печать | E-mail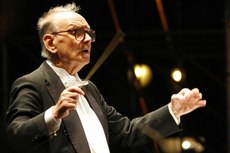 Film composer Ennio Morricone, who has been nominated five times for an Oscar and who received an honorary statuette in 2007, is scheduled to conduct concerts of his movie music at performances in Moscow in February. The Moscow concert is set for February 27 and 28 on the stage of the State Kremlin Palace.
Listing Morricone's most famous movies scores can be a difficult task simply because there are so many — "A Fistful of Dollars," "The Good, the Bad and the Ugly," "Once upon a Time in the West," "The Mission," "The Untouchables," "Cinema Paradiso," and "Bugsy" among them.
Born in Rome, Morricone's absolute music production includes over 100 classical pieces composed since 1946. During the late 1950s he served as a successful studio arranger for RCA. He orchestrated over 500 songs with them and worked with musicians such as Paul Anka, Chet Baker and Mina. However, Morricone gained worldwide fame by composing (during the period 1960–75) the music for Italian westerns by directors such as Sergio Leone, Duccio Tessari and Sergio Corbucci, including the Dollars Trilogy, A Pistol for Ringo, The Big Gundown, Once Upon a Time in the West, The Great Silence, The Mercenary, A Fistful of Dynamite and My Name is Nobody.
February 27 18:00
February 28 18:00