The Moscow International Festival «Circle of light» 2015
15.09.2015 22:29 Просмотров: 83 Печать | E-mail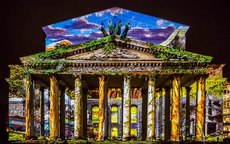 The Circle of Light Moscow International Festival is an annual event at which light designers and 2D and 3D graphic designers utilize the urban space of Moscow as canvas for multimedia and light installations.
The organizer of the Festival is the Department of Mass Media and Advertising of the City of Moscow. For the Circle of Light Festival Russian and international designers and artists produce light and multimedia shows, creating projection mapping on the facades of the most notable buildings, cultural monuments and other facilities in Moscow as well as integrate their creative ideas into the architecture of the city. Entrance to any Festival venue is free.
Event schedule
Ministry of Defence buildings on Frunzenskaya embankment
There will be a spectacular performance from 6 video-mapping novels, made by the master-hands from Russia, France, UK and UAE. The light composition on Andreevsky Bridge will connect the visual stories.
Available on weekends only! Follow the schedule on our website.
Bolshoy Theatre
A light show on the subject of the opera "Karmen" and the ballet "Lebedinoe Ozero"
In the festival's anniversary year on the facade of Bolshoy Theatre the best light retro-performances from 2013-2014 will be shown.
For the first time organizers decided to demonstrate the works of participants of ART VISION Classic 2015, who will pass into the second round of the contest.
VDNH
VDNH will turn into the park of light. Multimedia architectural lightening of the entrance arch and the buildings, light décor of the main alley, demonstration of the works of participants in two nominations of the contest – ART VISION Modern and ART VISION Vjing. The 27th of September – the musical program from the famous Russian singer and composer Dmitry Malikov will be synchronized with a video projection. From the 28th of September till the 4th of October – there will be the ice light show with the Russian figure skating stars.
The Central Children's Store
"A City of Light – for children". The façade of the Central Children's Store on Lubyanka Street will look really fairy. Here you can find amazing stories about fantastic creatures and a parade of the funny toys, an evolution of the Russian toy and a city transformation into the colorful incredible world.
Available only on weekends. Follow the schedule on our website!
Patriarshie ponds
Light installations on the subject of the novel "Master and Margaret" on the water
Chistie ponds
Light installations on the subject "Living in the city of light"
Moscow river
From the House of Music on Paveleckaya metro station to the Lujneckaya embankment the "multimedia barges" will sail and make projections on the embankment.
Available only on 26th and 27th of September.
Rowing canal (Krylatskoe)
A bright performance with a famous music accompaniment will be shown. Fireworks, fire, lasers and pyrotechnics will unite into the gorgeous symphony on the water.
Available only on weekends. Follow the schedule on our website!